Thoughts from the Good tech conference in held in Brighton, 19th Nov 2018
Mapping company ownership
Sam Leon and I spoke about the DataKind + Global Witness project using network graphs to map corporate control. This research exposed the substantial degree of law-breaking in company filings. For more about this project, read Sam's blogpost.
Easy ethics
Sam Warner of Black Pepper Software was full of tips for being an ethical technologist. But before diving in he offered a bit of perspective: Other disciplines like law and medicine have had thousands of years to figure out their ethical underpinnings. Computing hasn't even had a century yet. No wonder it's still so immature.
But understanding the status quo is not the same as accepting it. We can reject the ethical ambiguity of the current moment, and instead be ambitious. By some definitions, it is enough to *not* have a negative impact. We must go further, and aim for a net benefit.
But that's all a bit lofty. So here are Sam's practical tips for ethical tech:
The Ethical OS toolkit: Be provoked, prepared and supported by existing tools. EthicalOS (or 'how not to regret the things you build') is a toolkit to help understand, identify and act on ethical risks (see diagram below for an excerpt)
Watch again: Recordings from QCon London's Ethical tech track (March 2018) include talks on ethics for innovators, the line between using and exploiting psychological quirks, and how we can get to a computing code of ethics
Don't underestimate your power: It's not just the big players that can have a positive impact. Examples for individuals and small orgs include making sure your work is accessible – and doing so in meaningful way rather than just checking the tick boxes, ensuring access to all regardless of who they are – and make sure your team is diverse. As with everything else in life, our actions accrue and compound.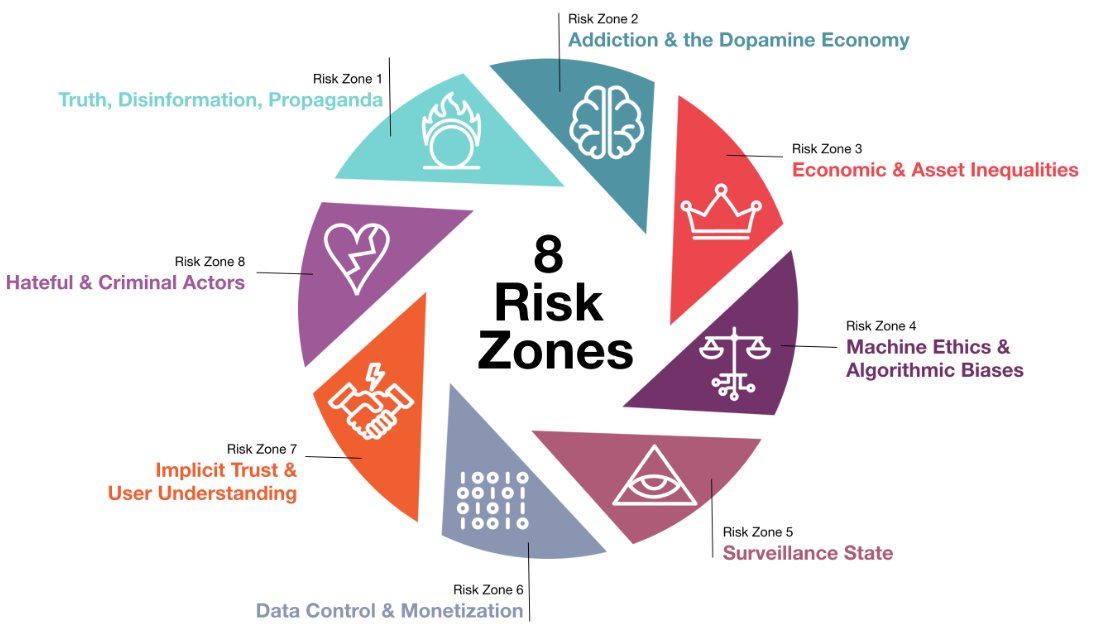 Plastic pollution + tech
What helps us to effectively monitor environments/environmental issues? Dave Gurnell and Lucy Shuker of Cartographer talked about some successful examples from the area of plastics pollution in waterways.
Firstly, we need good software that lets us gather, and analyse citizen-collected data, and share the results. Cartographer's model is to build shared platforms so they can make cheaper, off the shelf apps. Marine litter watch, which enables the collection and use of open data on litter across Europe, is an example of this.
Though there are advantages to off the shelf solutions – great for specific uses cases, free to use, data goes into a national database  – there are issues too. They aren't customisable, and there is no standardisation of data across users.
Which leads us to our second demand: standard data formats. Though many topics have standard data formats for the data itself, it's a different story for metadata formats (e.g. RDF, ISOs, OGC standards). This mightn't sound important but for some data types – in particular for survey data – knowing the provenance of the data is crucial e.g. what are techniques used to record this data? They point to Epicollect, a scientific version of Survey Monkey, as a good example of better standardisation across users.
And lastly, collaboration. We need to collaborate with the aim of building shared infrastructure that is effective and well-used, ideally with automated help built-in to nudge everyone to best practice. This isn't straightforward when we have different and sometimes competing goals, methods, funders etc. – and learn from each other. The Rivers Trust Catchment Based Approach is a best-practice example, and Zapier came recommended as a trusted tool to connect platforms together.
(Side note: I am not sure what this was an example of but I enjoyed playing with it. Side by side old and new map explorer from the National Library of Scotland.)
This post covers two presentations – for more, follow #GoodTechConf18